In a world filled with constant hustle and bustle, it's always heart-warming to see local businesses stepping up to make a positive impact on their communities. We are excited to express our heartfelt gratitude to Spar Islandmagee, a beacon of generosity in our community, for their recent donation of goods to support Whitehead Storehouse, as part of their 40th birthday celebrations. Their act of kindness reminds us that when businesses and communities come together, incredible things can happen.
The Power of Local Generosity
Local businesses are the backbone of any community. They provide jobs, goods, and services that sustain our neighbourhoods and improve our quality of life. However, the best among them go beyond their day-to-day operations to give back, becoming invaluable partners in the mission to make the world a better place.
Spar, Islandmagee has long been a shining example of this commitment. Their recent donation of goods to Whitehead Storehouse has been nothing short of extraordinary. These goods, including food staples and toiletries  will go a long way in supporting the less fortunate in our community and making a real difference in their lives.
A Helping Hand in Challenging Times
In today's challenging times, the need for support within our community is more significant than ever. Many individuals and families face difficult circumstances due to various factors, including economic hardship, health issues, or unforeseen emergencies. This is where the generosity of local businesses like Spar, Islandmagee truly shines.
Their donation will provide immediate relief and support to those who need it most, and Spar, Islandmagee has not just donated goods, they've offered hope and assistance to those facing tough times.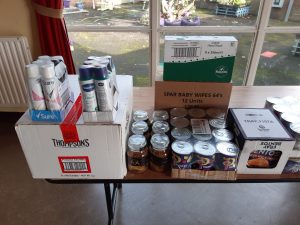 Inspiring Others to Give Back
The impact of this donation goes beyond the material goods they provided. They inspire other local businesses to follow suit, encouraging a culture of giving and compassion that strengthens the fabric of our community. Their generosity serves as a powerful reminder that we are all interconnected and that when we come together, we can create positive change.
A Lasting Partnership
We want to express our deep appreciation to Spar Islandmagee for their commitment to Whitehead Storehouse's mission. Their donation of goods not only helps us in our immediate efforts but also strengthens the foundation of our partnership. We look forward to working together on future initiatives and continuing to make our community a better place for all.
Conclusion
In a world often filled with challenges and uncertainty, it's reassuring to know that we have businesses like this in our community. Their recent donation of goods is a testament to their dedication to the well-being of our neighbours and the betterment of our community as a whole. We extend our heartfelt thanks and hope their generosity serves as an inspiration for others to join in making our community a brighter, more compassionate place. Together, we can create a ripple effect of kindness that will touch the lives of many for years to come.