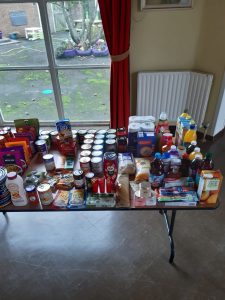 In the heart of Islandmagee, Islandmagee Presbyterian Church stands as a shining beacon of kindness. Their recent harvest donation to Whitehead Storehouse  has not only warmed our hearts but has also nourished the lives of many in our community.
Harvesting the Spirit of Giving:
The harvest season is a time when we reflect on the abundance of nature and the importance of gratitude. It's a season of giving thanks for the blessings we receive and sharing those blessings with others who may be less fortunate. The Islandmagee Presbyterian Church, in their remarkable act of kindness, has embodied the true spirit of this season and we thank them very much for their generous donations of food staples plus cash and vouchers.
Filling Pantries, Filling Hearts:
The heart of their donation revolved around providing essential food items to the Storehouse, which will help us to ensure that families in our community will not go to bed hungry. The simple act of providing food has touched the lives of many, offering a lifeline to those facing food insecurity.