Generosity
In the spirit of harvest and giving, we extend our warmest thanks to Whitehead Congregational Church for their generous donation to Whitehead Storehouse, the local food bank for Whitehead, Ballycarry and Islandmagee.. Your contribution has made a meaningful difference to our community, and we are truly grateful for your support. Your generosity is a shining example of the true essence of the harvest season. Thank you for your kindness.
In these times of adversity, the Congregational Church's act of generosity has sown seeds of hope. Their donation serves as a beacon of light, reminding us all that compassion and kindness can thrive, even in the face of adversity. It sends a powerful message to those struggling: you are not alone, and help is near.
And even more the Congregational Church's gift has fortified the bonds within our community. It has shown us that when we unite with open hearts and outstretched hands, we can build a compassionate and resilient community.
Spirit of Giving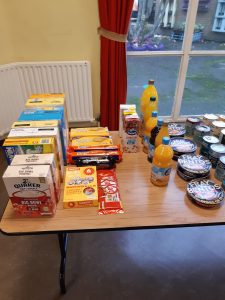 As we celebrate this year's harvest season, let us continue to carry the spirit of giving with us throughout the year. Supporting local food stores and charitable organisations is not limited to a particular season; it is a year-round dedication to ensuring that every individual in our community has access to the essentials they need.
Whitehead Congregational Church's harvest donation has sown seeds of kindness that will undoubtedly yield a rich harvest of gratitude in our community. As we express our thanks, let us also challenge ourselves to follow their example. Together, we can create a community where no one goes to bed hungry and where the bonds of compassion and support are unbreakable.