Heartwarming Gesture of Community Support and Generosity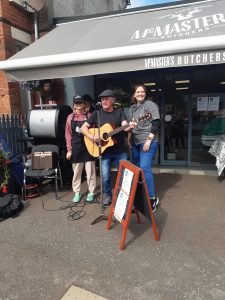 In a heartwarming display of community spirit, McMasters Butchers, Kings Road, Whitehead, orchestrated a sizzling barbecue event on Saturday 26th August 2023 that not only delighted taste buds but also warmed hearts by raising over £1,000 in sales and donations for Whitehead Storehouse. The barbecue was part of the Music and Mind Festival in Whitehead over the Bank Holiday weekend and brought together people from all walks of life for a delicious feast that left a lasting impact beyond the palate.
The aroma of grilled delicacies, and the sound of live music from Cecil Knox, conversation and laughter filled the air as McMasters Butchers powered up the mobile barbecue and created delicious burgers, hot dogs and salads for residents and visitors to Whitehead. The event, aimed at raising funds for Whitehead Storehouse, proved to be an incredible success, showcasing the power of local businesses to effect positive change.
Donated Fee
McMasters Butchers arranged for Cecil Knox to provide live music at the event and Cecil very kindly donated his fee for playing to Whitehead Storehouse. Thank you very much Cecil.
"We are immensely grateful for the overwhelming response from our community," said William Turley at McMasters Butchers. "This event not only allowed us to serve up mouthwatering dishes but also provided a platform for our community to come together in support of Whitehead Storehouse."
Whitehead Storehouse is deeply grateful to William Turley and his hard working band of helpers at McMasters Butchers, for their dedication, preparation and hard work and also to Cecil Knox for donating his appearance fee to Whitehead Storehouse. The funds raised through the charity barbecue will go a long way in supporting Whitehead Storehouse's Mission to help those at economic disadvantage in Whitehead, Ballycarry and Islandmagee.
As the last embers of the barbecue fade away, the warmth of this event will linger on as a reminder that when businesses and communities collaborate, they can achieve remarkable feats that uplift and inspire. The sizzle of the grill may have ceased, but the echoes of this charitable endeavour will reverberate for a long time to come.