Third Annual Music and Mind Festival Set to Enchant Whitehead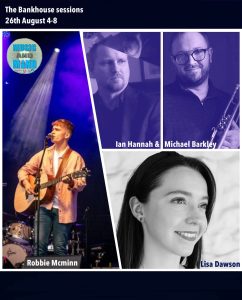 WHITEHEAD, COUNTY ANTRIM– Prepare to embark on a transformative journey where the power of music, poetry, meditation and spoken word converge with health and well-being. The eagerly anticipated third annual Music and Mind Festival is back, promising a captivating three-day experience that will rejuvenate your spirit and touch your soul.
Scheduled from August 25th to 28th, 2023, the Music and Mind Festival is set to captivate audiences across various enchanting locations in the serene coastal town of Whitehead, nestled within the heart of County Antrim. This unique event is a celebration of the profound connection between the arts and holistic wellness, and its significance resonates not only locally but beyond, drawing contributors and participants from far and wide.
Barbecue at McMasters Butchers, Saturday 26th August
One of McMasters famous barbecues will run from 11am to 4pm at McMasters Butchers, Kings Road in aid of Whitehead Storehouse. There will be live music.
Music at the Bankhouse
If you don't want to visit a pub to hear music, check out the sessions at the Bankhouse, Edward Road.
Family Picnic
Saturday 26th August at the Methodist Church, Edward Road, with music, Jo Jingles, Bouncy Castles and Face Painting.
Elevate Your Senses
Immerse yourself in a symphony of holistic well-being as the festival weaves the harmonious threads of music, poetry, and spoken word into a tapestry of healing and self-discovery. Delight in a myriad of soul-stirring performances that range from soulful melodies to powerful verses, all carefully curated to uplift, inspire, and nurture the mind, body, and spirit.

A Confluence of Creativity and Wellness
The Music and Mind Festival is more than just an event – it's a celebration of the intricate relationship between artistic expression and mental well-being. Discover the therapeutic influence of rhythm and sound, the cathartic release of poetic expression, and the transformative potential of spoken word. Engage with renowned artists and wellness experts who will guide you on a transformative journey, enabling you to tap into your innermost self and cultivate a sense of balance and harmony.
Local Roots, Global Impact
While the festival is deeply rooted in the local community, its impact reverberates globally. With contributors and participants hailing from near and far, the event fosters connections, fosters understanding, and encourages dialogue across diverse cultures and perspectives. As the festival embraces a universal language – that of creativity and well-being – it unites individuals in a shared experience that transcends geographical boundaries.
A Date with Wellness
Save the dates – August 25th to 28th, 2023 – as Whitehead opens its doors to an enchanting celebration of Music and Mind. From the picturesque coastal venues to the vibrant pulse of artistic expression, every moment promises to be an exploration of wellness, connection, and the limitless power of the human spirit.